Throughout the last 23 years, educator Jackie Sczepanski has utilized Educational Tours, Inc. for all 10 trips she's taken with her high school band students. As the band director for grades 5-12 at Randolph High School in Randolph, Minnesota, Sczepanski has traveled to a wide variety of destinations, from New Orleans, St. Louis and Chicago to Nashville, Orlando, and even New York City this March.
The trips Sczepanski and her students have enjoyed have all been focused on music in the arts, affording them opportunities such as partaking in Disney Workshops, recording at RCA Studio B in Nashville, performing in veteran homes, attending plenty of amazing concerts and more.
Sczepanski reflected on what she considers to be one of the most memorable moments from a past trip.
"We were at the Ryman Auditorium in November 2016. Those who have taken the Ryman tour know that sometimes artists show up unannounced," Sczepanski said. "The night we were there, Garth Brooks and Trisha Yearwood showed up unannounced! He and Trisha performed for about 45 minutes and sang their greatest hits."
Beyond taking part in some seriously fun experiences, Sczepanski finds students learn a lot from their trips.
"I bring 9th graders on our trips and for many of them, it's their first time away from their parents for more than one or two nights," she said. "They quickly learn responsibility, independence and financial responsibility. We've also learned that someone from each room should pack a power strip to charge all their devices from that room!"
Sczepanski reflected on working with ETI over the years and what made her choose to work with ETI in the first place, referencing former team member, Cindy Richardson.
"She was exceptional at her job and made me feel like I was the only one she was working with; she made me feel like I was the most important director of all the directors she worked with. I knew this is not the case and she treated everyone this way but that's how she made me feel," Sczepanski said. "She and her team, and now Kim Burger and Dani Fluegeman, were always willing to bend over backwards, rework, tweak and do any crazy thing that I threw at them."
Sczepanski, who has been a band director since the fall of 1999, says that because ETI has been great at pivoting mid-trip when needed, she continues to enjoy planning her trips with the team.
"During my first year teaching, I thought it would be a great idea to organize a trip to New Orleans for my high school band and choir students," Sczepanski recalled. "I felt like it would be the perfect place to experience a whole different culture without leaving the country."
Thanks to ETI's guidance, Sczepanski successfully organized and managed two busloads of students for her first trip.
"When we arrived in New Orleans, we had the greatest retired couple as our tour guides," Sczepanski said. "I was able to relax and worry about our performances instead of the logistics of getting from point A to B, because ETI did all the work for me! When I changed jobs and started to plan a trip to St. Louis at my new school, I knew Educational Tours was who I needed to go with."
Sczepanski calls ETI's team reliable, trustworthy, honest, professional and experienced.
"I've tried to price out a trip on my own and make the cost even lower for my students, but honestly this company gives me the peace of mind I need and I believe it gives parents peace of mind, too," she said. "I don't know how other directors do it! I would be a ball of stress the entire trip if I had to plan and worry about everything!"
There are several examples, shared by Sczepanski, as to the benefits of enlisting professionals like ETI.
"In March 2019, I took about 38 high school band students at chaperones to Chicago. We had tickets to the Chicago Symphony on the Saturday night before St. Patrick's Day," Sczepanski recalled. "Three days before we departed for our trip, the Chicago Symphony went on strike! ETI scrambled like crazy to find us another experience to replace it with but everything was booked for our size group. ETI came through and found us tickets to a comedy club where we had an amazing time! ETI refunded us the cost difference between tickets and I was able to reimburse parents in a timely manner."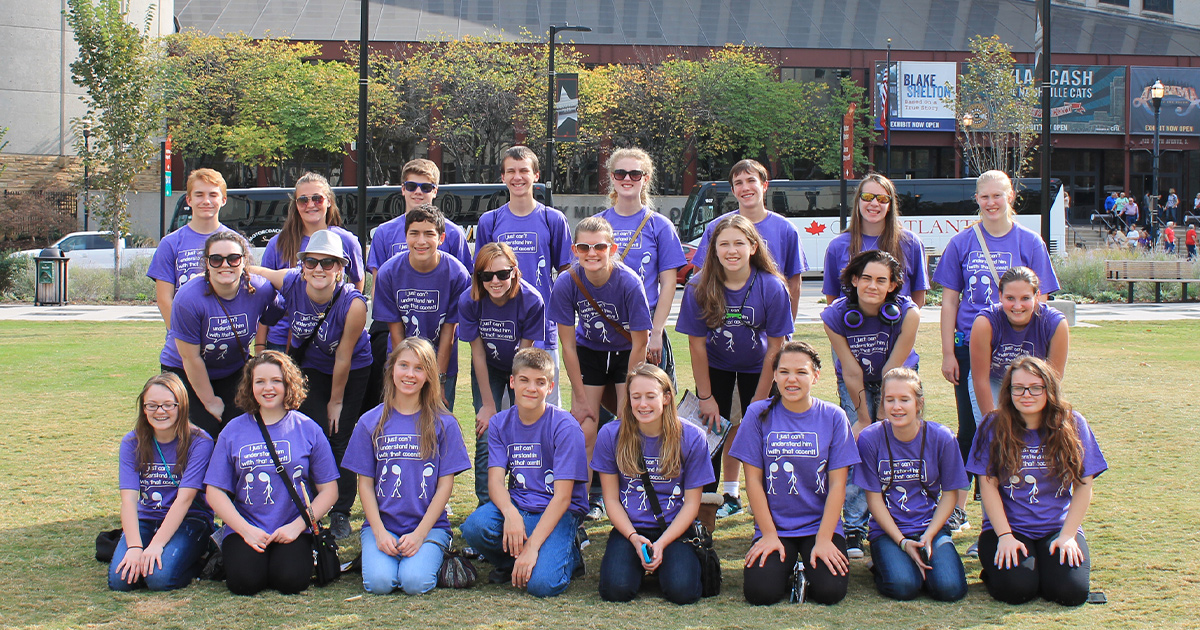 Sczepanski shared another example from a trip that had to pivot due to the onset of the COVID-19 pandemic in 2020.
"The students had submitted their deposits and made their first payment when COVID hit; we were crossing our fingers for a miracle," Sczepanski said. "When it became evident the trip was not going to happen, ETI's accounting department worked with us and were able to refund nearly every dollar back to the students. I'd been hearing horror stories about other travel companies not giving money back and I was beyond happy that my students and their families got nearly all their money back."
ETI's guides, Sczepanski said, have always been extremely professional, knowledgeable and friendly the entire duration of the trip.
"I always feel like I'm on vacation and not a school trip with them because they literally handle everything!" Sczepanski, adding that transportation with her students has also always been a positive experience, thanks to ETI. "The airlines ETI uses make group check-ins quick and the TSA security check quick and efficient! Our bus companies have also always had clean buses for us and their drivers were professional and friendly."
Sczepanski emphasizes to other educators who may be interested in exploring student travel that your destination isn't the end-all-be-all of your trip.
"It doesn't matter where you go. Go where it's most affordable for the majority of your students," Sczepanski advised, adding that this might be the only affordable option they have for travel in high school and to get to do it with a large group of their friends is important. "They will remember this trip for the rest of their lives. When they go to class reunions, when they have kids of their own, when they are 85 years old … they will talk about this trip and how much fun they had."
Courtesy of ETI.