Though travel can be an intimidating prospect for directors and teachers, Matt Suddendorf, Choir Director at Deer Park Junior/Senior High School for Grades 6-12 in Cincinnati, Ohio, truly believes the benefits far outweigh the cost and challenges.
"Anything we as teachers can do for our students to open their eyes to how music shapes so many facets of our world, and how students can keep music alive after they move on into the next chapter of their lives, is critically important," Suddendorf said, noting the Deer Park Music Department has been working with ETI since the Deer Park Marching Band & Guard's first trip to Walt Disney World in 1996. "From the beginning, ETI has proven they are a leader in the group travel industry through effective communication, prompt and clear problem resolution, and consistent delivery of a top-notch product."
Suddendorf shared how ETI helped to plan a trip unlike any other his school had seen.
"For the first time in our school's history, the entire high school music department—band, choir and color guard—took a combined trip to Walt Disney World Resort to participate in their excellent Imagination Campus program, as well as enjoy some much-deserved recreation in the parks," he said.
For many years prior to Suddendorf becoming the choir director, only the band and color guard organized trips to Walt Disney World. Suddendorf and the other department directors felt that it was important to open up this opportunity to all of their high school students for two major reasons.
"First, to build camaraderie among the different elements of our department, and second, to provide students with an opportunity to celebrate an incredibly successful 'navigation' of the muddy waters caused by the COVID-19 pandemic," Suddendorf said.
From 2012-2019, Suddendorf was the head director of the high school marching band, along with fellow educator, Joe Vetter. When Suddendorf took over the choir department for the '19-'20 school year, an additional educator, Pat Bauer, took over as band director.
"I had already begun planning for the high school band and color guard to take a trip to Walt Disney World, so Mr. Bauer and I continued the planning process together with ETI," Suddendorf said.
The trip had been originally scheduled for April of 2020.
"When the pandemic hit here in Ohio, we, like the rest of the nation, had to scramble to try and address the needs of our students in a completely new and foreign way," he explained. "Typically, our trips to Walt Disney World are only once every four years. As such, it was important for us to try and make the trip happen at all costs so our upperclassmen would not miss out on their once-in-a-lifetime trip experience."
Suddendorf and Bauer worked diligently with ETI during the first few months of the pandemic, trying to find alternate dates, different hotels, and even different experiences in order to try and keep the dream of the trip alive.
"When it became obvious that Disney was not going to remain open, ETI came through in a big way and helped our students and their families recoup a significant amount of their financial investment in the trip, Suddendorf said. "While it was painful to admit that some of our students would not get to experience their trip, it was an absolute relief and a small miracle that the magnificent staff at ETI did not relent in serving us until we had successfully resolved such a challenging issue.
"This year, when our Board of Education gave us permission to travel once again, ETI helped us design a make-up trip that included an opportunity for all of our students to travel, and provided our department with the thrilling adventure and incredible educational opportunities we have come to expect from the Imagination Campus program. On this trip, since the effects of the pandemic were still shaping our travel experience day by day, ETI helped us handle every problem with speed and accuracy so that students never even knew we had a problem to begin with. That level of service is what will keep us coming back to ETI well into the future."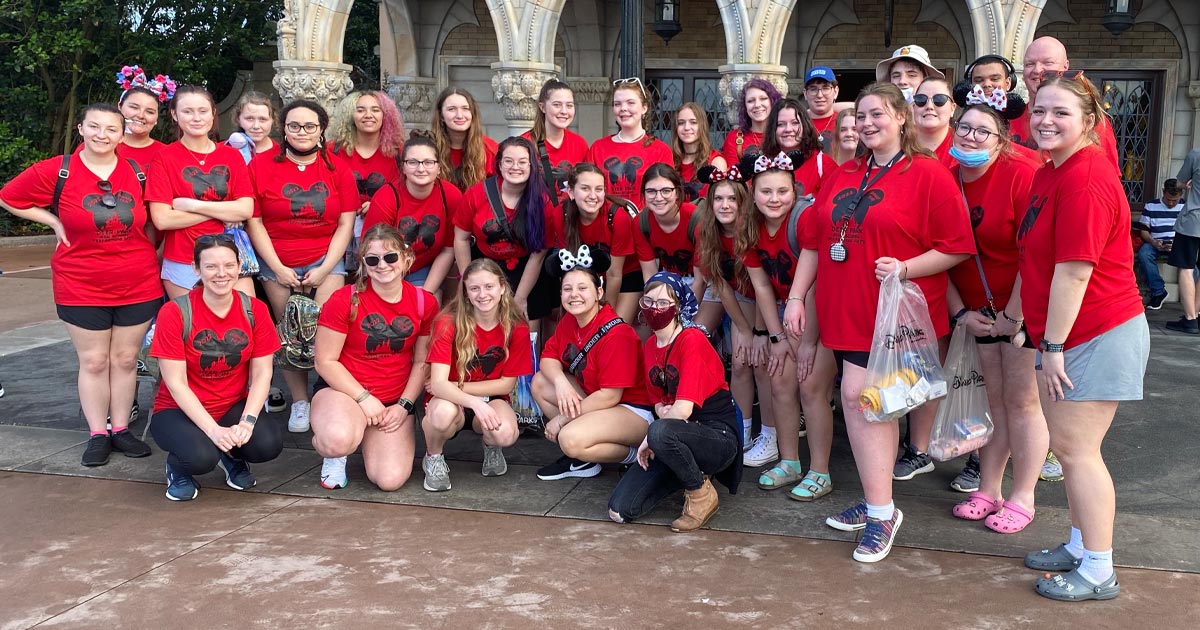 For Suddendorf, there were two major highlights of the experience.
"Educationally, the high school choir's participation in the Soundtrack Sessions clinic was an experience I will never forget as a director," Suddendorf said. "Working with Disney Performing Arts professionals who guide the students through a typical 'day in the life' of their profession, as well as having the opportunity for our students to put their voices directly into a Disney soundtrack, perfectly aligned with our school district's focus on College and Career Readiness."
Upon exiting the clinic, Suddendorf overheard some of the choir students say how this experience had been life-changing for them.
"As a director, nothing compares to the feeling of hearing students passionately excited about a musical opportunity!"
Next, there was one particular moment of goofy fun that will always stick with Suddendorf.
"At the conclusion of our day in Hollywood Studios, our group of almost 100 students, directors and chaperones, were waiting outside the park gates for our buses to arrive. Many of us, myself included, had purchased Legacy Lightsabers in the Star Wars area of the park. While we were checking out each other's' lightsabers, an impromptu 'battle' broke out!" Suddendorf recalled. "About 20-25 of us had an absolutely raucous time 'fighting' each other, living out a charming childhood dream of participating in the epic battle between the Jedi and the Sith (of which I was a part of the Sith, since Darth Vader is my favorite character)!"
Suddendorf said that impromptu moment of pure fun and enjoyment was a perfect antidote to the funk and depression that had settled into their school and lives during the pandemic.
"We all were kids again, without a care in the world, and none of us will ever forget that feeling!" he said, noting that there were many lessons students had to learn to successfully participate in the trip. "As a department, we make it a goal to provide our students with not just a solid musical education, but a foundation upon which to build the necessary life skills the life after high school demands. As such, preparing for and participating in the trip required the development of time management, financial budgeting, group work, and individual responsibility, among other skills."
For most of the students, this trip was their first time away from home without their families.
"We had to develop a high level of trust among the students, chaperones and directors in order to safely travel so far away from home," Suddendorf explained. "Those lessons are invaluable to our students' success as they embark upon their journey after high school."
Without a doubt, student travel is an exciting and beneficial part of any school experience.
"Our philosophy is to provide our students with as many opportunities as possible to participate in a wide variety of musical experiences," Suddendorf said. "Group travel takes those experiences and opportunities that are typically limited to activities within the four walls of our schools and places them squarely in the real world. ETI never fails to help us demonstrate what one can do with music throughout life by helping us plan and participate in real-world musical experiences."
Even after Suddendorf and his students returned home, ETI stayed involved.
"They wanted to know how our experience was and what they can do to improve in the future," he said. "They don't rest on their laurels; they strive to improve the experience for each of their clients. To the team at ETI, a resolved issue isn't resolved until the root of the problem has been fixed.
"Group travel with an experienced, flexible and capable partner like ETI will serve to provide lasting memories and critically important educational experiences for your students. Take the risk!"
Courtesy of ETI.