Ken Holdt, who teaches AP Music Theory and is the Director of Choral Activities for grades 9-12 at Sycamore High School in Cincinnati, Ohio, understands the life experience taking students on the road offers.
Holdt, who has utilized ETI for his two most recent trips in 2019 and 2021, prepares his students to travel to Disney biannually for a variety of activities, including choir workshops and The Candlelight Processional at EPCOT—an exclusive experience Holdt's choir earned entry to on their first try. Sight reading, seeing what a live sound stage is like and performing for others are among the experiences Holdt says help offer college and career readiness for students beyond the trip.
"One of the most impactful parts of the experience is the professionalism—professionalism undergirds everything that we do here," Holdt explained.
He recalled an experience on their most recent trip when the students realized they weren't going to have time to rehearse their entire performance.
"In part, my students probably felt like they were freaking out, but what I saw was that they were growing and they were becoming more professional," he said. "They were understanding what the world of performing is like, and they have a job to do."
Watching the theoretical become real is always a highlight of the trips for Holdt.
"If students are interested in going to performing arts, these are experiences they get through Disney that helps fortify that," Holdt said. "I'm really proud of them, just to see them do it and make it happen. And the growth in the students through these experiences. And of course, Disney is Disney—and it's fun. We had time in the parks and students were developing relationships and strengthening our core community doing all those things."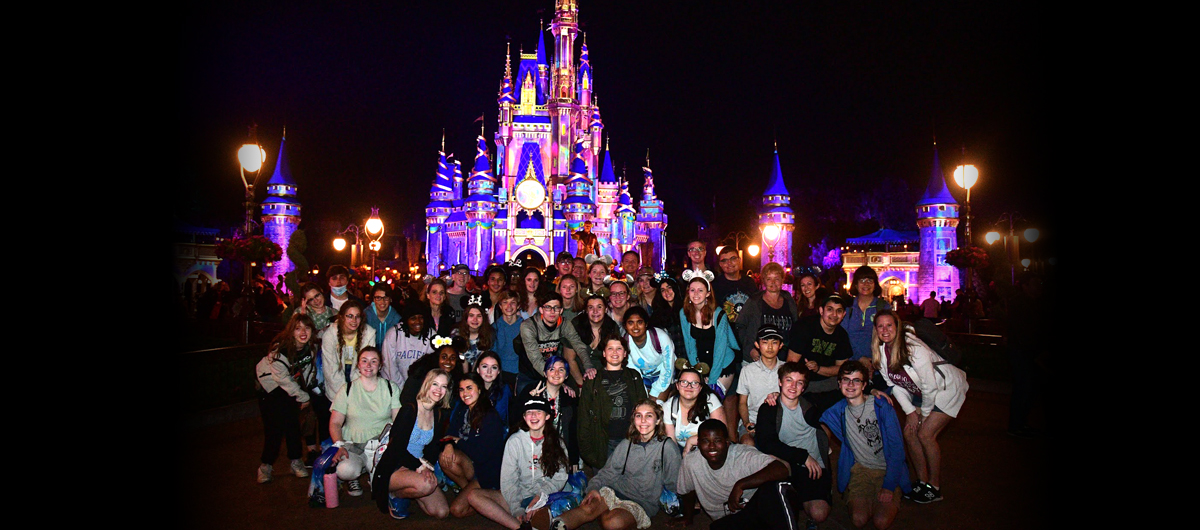 Through it all, ETI has made the trip planning process a breeze for Holdt, who worked with a different student tour operator in the past.
"We couldn't be happier with ETI," Holdt said, who has been taking students to Disney since 2012. "Their helpfulness and responsiveness—it's almost like texting because it's so quick. It's the right amount of familiar and they're a small, family-owned business. We initially chose ETI because of cost … they're very economical to work with."
Holdt was impressed when working with ETI's on-the-ground tour guides, who he said went above and beyond for him and his students.
"It speaks to the quality of people," he said. "I feel like goodness attracts goodness. In ETI I see that goodness."
Courtesy of ETI.